In early 1995, the height of one of the towers has been extended by another 12m reaching the height of 52m. Thus, the tower allows measurements of carbon dioxide fluxes above the tree canopy level.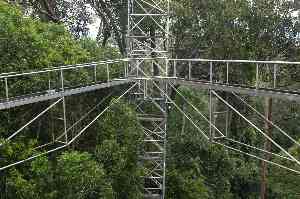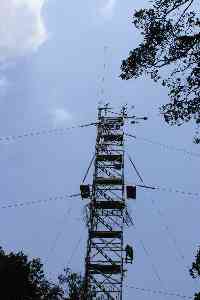 Detaild information
Detaild information

| Element | Label | Length(m) | Height above ground(m) |
| --- | --- | --- | --- |
| Aluminum Tower | ① | - | 52 |
| Aluminum Tower | ② | - | 40 |
| Aluminum Tower | ③ | - | 40 |
| Walkway | ① | 20 | 30 |
| Walkway | ② | 20 | 30 |
| Walkway | ③ | 20 | 30 |
Research facilitated by the system
---
Ongoing research projects
Leaf Phenology of Trees in the Pasoh Forest Reserve. Noriyuki Osada, Hiroshi takeda, akio Furukawa, Toshinori Okuda & Muhamad Awang.

Leaf Physiological Adjustments to Changing Lights : Partitioning the Heterogeneous Resources across Tree Species. Atsushi Ishida, Akira Uemura, Naoko Yamashita, Michiru Shimizu, Takashi Nakano & Ang Lai Hoe

Aspects of the Diversity of Geometridae (Lepidoptera) in Pasoh Forest Reserve. Jeremy d. Holloway & Jurie Intachat

Seasonal Variation and Community Structure of Tropical Bees in a Lowland Tropical Forest of Peninsular Malaysia : The Impact of General Flowering. Naoya Osawa & Yoshitaka Tsubaki

Vertical Stratification of Ambrosia Beetle Assemblage in a Lowland Rain Forest at Pasoh, Peninsular Malaysia. Kaoru Maeto & Kenji Fukuyama

Spatial Distribution of Flower Visitiong Beetles in Pasoh Forest Reserve and its Study Technique. Kenji Fukuyama, Kaoru Maeto & Ahmad S. Sajap

Tree Physiology - Photosynthetic Characteristics of Canopy Tree Species.

Tree Phenology - Flowering and Fruiting Mechanism of Canopy Trees.

Plant and Animal Interactions - The Pollination System

Co2 Flux - Carbon Budget and Cycle of Tropical Rain Forest.

Arboreal Animal Ecology - Habitat Use of Arboreal Animals.
Research outputs
Information for Visitors
---
Access
 Overland via Kuala Pilah (TR51) or Kuala Klawang (TR86) to Simpang Pertang (TR 9). About 500m before Simpang Pertang (coming from Kuala Pilah), you will find a sign for "Felda Pasoh Dua", take this tarmac road and follow it down for approximately 2.7 km. At a sharp bend will be a small dirt track that will lead you through an oil palm grove and finally to the centre. This junction is not sign-posted, so keep track of your km reading from the main junction.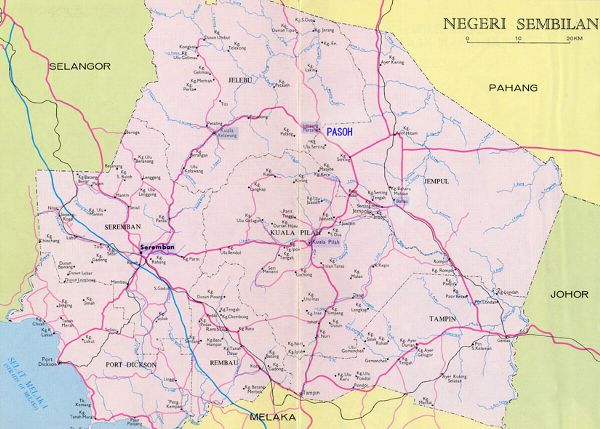 Things to do
 There are a number of sign-posted nature trails in the Pasoh Forest Reserve (PFR). It is a good place to learn about tropical trees by exploring a lowland forest. You could have chances to meet the typical lowland forest mammals like the white-handed gibbon and leaf monkey. PFR is also a popular bird watching destination for those who are interested in lowland birds. Black hornbill, trogon, pheasant and woodpeckers are among the vulnerable species that could be seen in Pasoh.
For visiting purposes
 Basically visitors shall apply for permission to Forest Research Institute Malaysia (FRIM) in order to enter the forest and use the facilities like towers and walkways. The facilities are mainly for educational purposes rather than general sightseeing tour.
 While using the facilities in Pasoh Forest Reserve (PFR), one shall be aware of own safety and shall be responsible in respect to injuries or death of oneself, and compensate any damages arising out of their negligence.
For further information, kindly contact Mr. Nishimura (1000n@mb.neweb.ne.jp) from FRIM.
For Research purposes
For research purposes (accumulating data, research equipment setting etcs.), you need to summit a research proposal to the project organizing committee for evaluation before you are allowed to initiate your research. If you are using the data accumulated by using Pasoh Forest Reserve (PFR) facilities in a publishing work, you are strongly urged to cite the project committee and PFR in your research output.
 For visitors who are doing research in PFR, FRIM has established well-equipped living quarters at Simpang Pertang and inside the PFR area. At the base station in Pasoh, there are dormitory and housing facilities situated in a clearing within the forest, together with a small laboratory and library for research and reference work. For accommodation in Simpang Pertang, basic necessities included telephone, fax, printer and so on are well equipped. Moreover, grocery shops and restaurants are located nearby for convenient.
For further information on carrying out research at PFR, please kindly write to Dr. Okuda (t_okuda@nies.go.jp) from NIES together with your profile and research proposal.